Podmet, 2023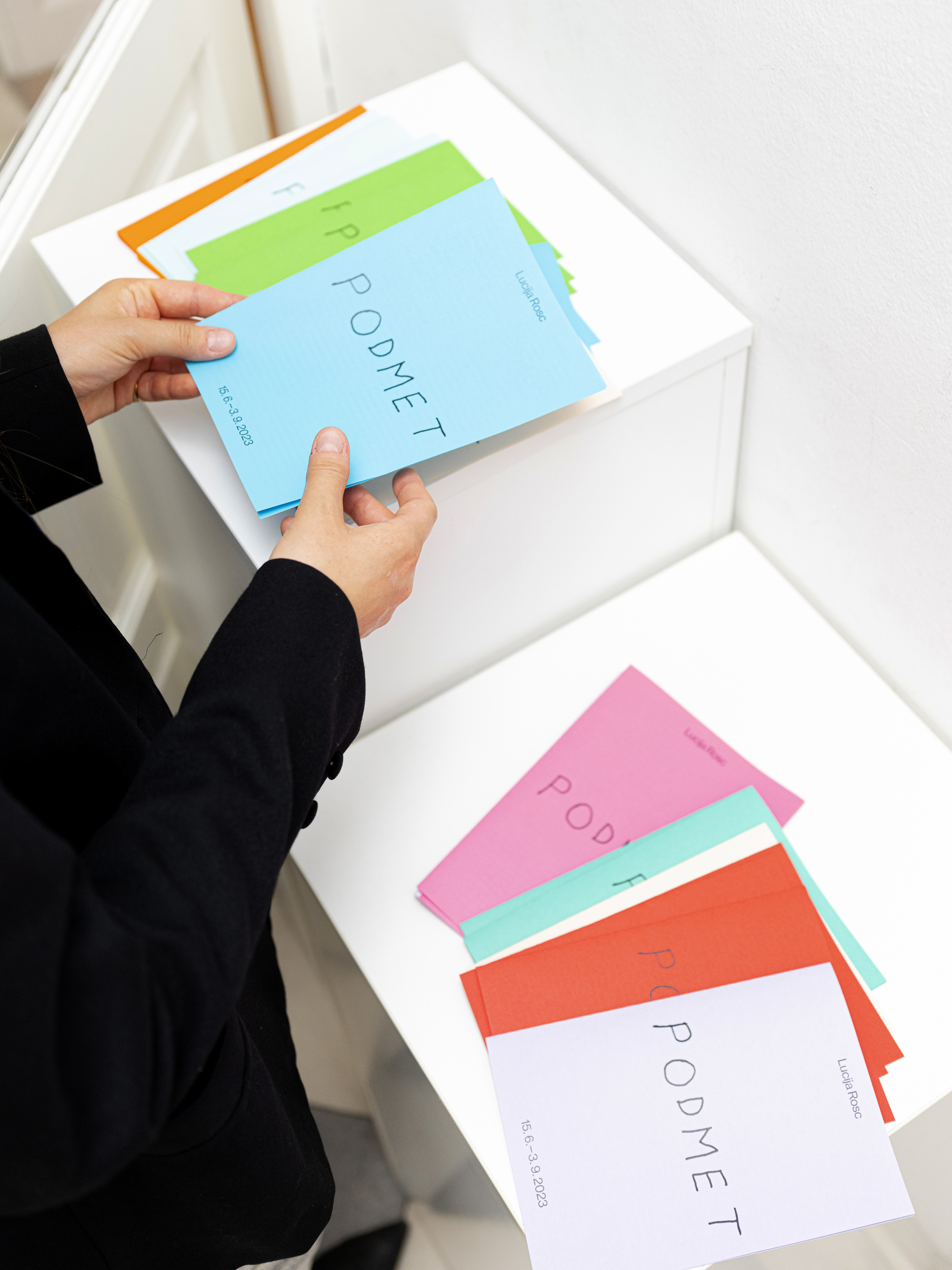 In her diverse projects, artist Lucija Rosc engages in the accumulation and archiving of memories driven by the desire to freeze time or escape its passing. In the past, she exhibited her private collections, archives, materials, and objects, but this time, she entrusts the task of collecting to her grandparents. By deciding to create a collection of their collections, she takes on the role of a curator and goes a step further by organizing these collections in her own way and adding her own artistic signature to them. It involves newly created and presented assortments of more or less meaningful objects that her grandmother and grandfather have been storing. These range from practical items such as knives, plates, and curlers, to entertaining ones like jokes, trinkets, and cardboard cards with puppy motifs, and sometimes even things that some might consider as waste, such as empty bottles of carbonated water brand Tempel (Tempel originates from her grandfather's birth town). By choosing to present objects with different sentimental, aesthetic, and functional values, the artist offers viewers an extraordinary insight into how her grandparents perceive these various objects. This raises an interesting question about how the older generation's perception of objects differs from that of the younger generation. The artist presents these items and memories through various mediums, including studio photographs, readymade objects, and sculptures. For the first time, she also includes a sound recording in the exhibition.
The exhibited sculptures are assembled by recycling pre-existing materials that were available to her, yet each one carries a defined message. Even the backgrounds and details that could be overlooked are deliberately included; most often, they consist of items and papers received from her grandmother and grandfather. Condensation is, therefore, a crucial activity that the artist employs in her current artistic practice, which also explains the title: "podmet" that refers to a mixture of flour and water used to thicken soup or stew. This word is not chosen randomly either, as Lucija's grandfather, Adi, prepares this mixture every time he cooks her a favorite meal of hers, carrot soup.
As always before, Lucija Rosc approaches the themes of her project with an extraordinary amount of empathy and love for her loved ones. Not only does she desire to freeze memories, but also to bring the perspective of her grandparents closer to external observers, making the project particularly human. Rather than emphasizing the fear of passing time, it conveys a sense of joy for life and coexistence with loved ones. The sincerity of the author's expression is also evident in the non-judgmental exposure of habits, even though they may be more or less meaningful at times. The humor that permeates all her works reveals a playful and fun approach to her artistic process. A similar playfulness is reflected in the character of her grandmother Mica, who always keeps a booklet in her wallet where she writes down jokes and reads them whenever the opportunity arises. Lucija recorded Mica reading her jokes aloud and presents the recording in the form of a vinyl record in another part of the exhibition space. The record contains 31 jokes, and each copy is accompanied by a reproduction of Mica's joke booklet, which also serves as a collection of textual sound recordings. The exhibition also separately highlights each element included in the graphic design of the vinyl; thus, on the wall, we see the original archival photograph of her grandmother on a motorcycle, used for the cover of the record, as well as Lucija's photographs of Mica, her grandfather Adi, her collages, and her notes to Lucija. The latter includes random sentences that her grandmother wrote at the request of her granddaughter to write anything. Even on a single page, her writing style expresses both her grandmother's love and playfulness. In addition to the mentioned notes, the artist also used many other existing writings by her grandmother, then digitized her handwriting and used it to decorate the back of the record with numbering and titles of the read jokes. Just like many times before, the artist presents an extremely dynamic exhibition, filled with dialogues between photographs and materials, colors and patterns, and this time also between her own artistic expression and the expression of Mica and Adi.
Teja Miholič